We are switching things up at home! Cable costs us $75+ a month just so that M can watch Treehouse (don't judge me, my husband is 12 hours away). I haven't turned the TV on more than 5 times since Blair moved away, and even before that we weren't watching much TV on an actual TV, we have been streaming all of our shows from various websites. So... $75 a month is pretty big for my ability to have sanity!
In the past week, a few different people have been extolling the virtues of Netflix, and at $7.99 a month that a sweet price for child occupation! Un/fortunately we need some way to get the netflix onto the TV... enter the Wii :) I've been searching around on eBay and various websites and have decided to buy a new one to avoid hassles and what ifs. So tonight I will be be taking a big step for our non-gaming family and buying a Wii and tomorrow I will be signing us up for Netflix & cutting the cable... I hope it feels good. I'm excited to get the Wii because I think M will be able to play some of the simpler games with me and then possibly we can "game" (oh I use this term SO loosely) as a family. I've already looked into the games we can buy down the road... they have Disney Cars for the Wii, M will be so stoked for that! He has no need for toys or books, so now people can buy him Wii games :)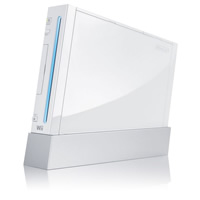 I'm getting a white one instead of a black one because I buy pretty skins for it :) And also I dream of beautiful white built-in bookcases surrounding the living room window and a black Wii would do the opposite of blending in!
For Me (Poppy Essence)
We talked about buying one after K & S's wedding because we had fun playing it with our friends when we were down there. We decided against it because we weren't sure how to get the sensor bar installed so it would work with the projector/screen setup, but today I found wireless sensor bars online and I'm excited for when we get a new projector after Blair gets a job (ours kicked the bucket this winter - another reason why I haven't been watching TV, it was hit or miss if it would work and it took me an embarrassing long time to remember that Ihttp://www.blogger.com/img/blank.gif can hook the cable up to our computer, but then I still might as well stream my shows).
for Micah (Chunky)
Who knew a whole 443 word post on my lusting for a Wii...